Welcome To The World Of Optical Illusion
We are not always blessed with spacious rooms. Even if the master bedroom is pretty big, the washroom will be on the smaller side. Needless to say, we all like to feel free and boundless, like we're living in a 10-acre space. One way to create this impression is through an optical illusion, using mirrors.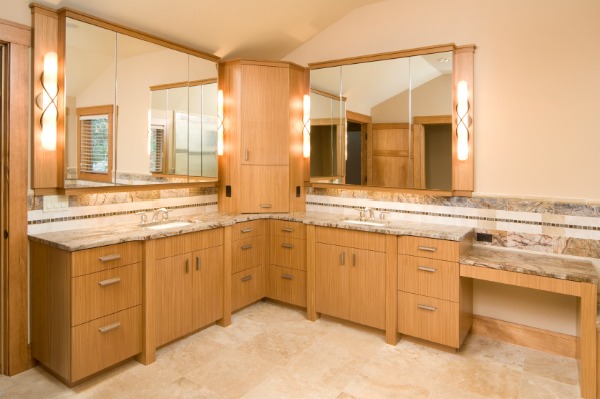 Go horizontal
Mirrors are a must-have in all washrooms. Whether you stick to a wall-wide mirror or a portable, hung mirror, try to go for a more horizontal feel. This will make your washroom seem wider. The same rule applies to wall mirrors all around a house or apartment. When hanging a mirror in a closed space, try to go horizontal for that widening effect, as it gives a room grandeur and space automatically.
Face empty space
As a rule of thumb, never situate a mirror so that it reflects a cluster of shelves, a big television, or anything that will block the view. This will make the room appear more cluttered and automatically smaller. If you place a mirror facing an empty wall or space, however, it will create the illusion that the opposite wall is much farther away than it really is and your room will feel a lot more spacious.
Use mirrors in hallways
Scattered, smaller mirrors or one large mirror can nicely decorate hallways or corridors, or any sort of passageway between rooms. Mirrors between rooms blur the lines where one wall ends and another begins, and they give depth to a flat surface. They are also very useful as decorations in passageways, where it is often hard to find something that will blend with two or more rooms.
Mirror-door closets
A mirror that runs from top to bottom is not very convenient for bedrooms, unless you are going ultra-modern and avant-garde in the room as a whole. But for an entryway coat closet, it can be quite the crafty solution. Such closets are rather narrow, generally speaking, and are often squeezed between two walls. A mirror door will reflect all the space around it, giving the illusion that it is much bigger than it truly is.
more home decor tips
Little home spruce-up ideas for spring
Photo frames: Making your own family collage
Decorating with mural wallpaper
More From SheKnows Explorer