Ways To Get Yourself Running On Time
Nearly everyone has been on both sides of the lateness experience. We've all been frustrated at someone showing up 15 minutes past when a meeting was supposed to start, and we've all fallen behind and gotten to an important social gathering later than we intended. No matter what the excuse, tardiness never reflects well on a person. Avoid being late with these simple tips.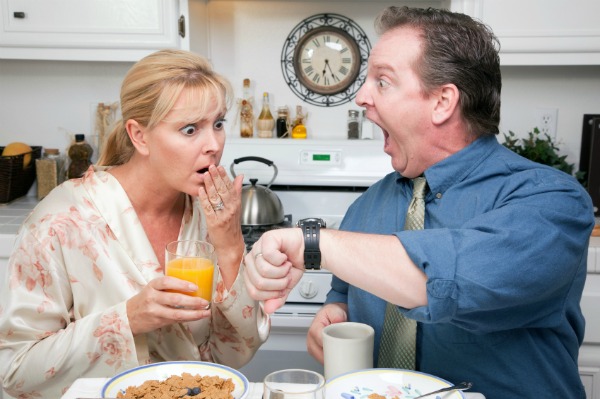 Get things done ahead of time
When you're having a rough morning and don't particularly feel like heading off to work, you are far more likely to wind up being late — and potentially upset or frustrate someone. If you leave the packing of your bag and the making of your lunch until the morning, your chances of being tardy increase. Operating in last-minute mode can put you in a frenzy while trying to get everything accomplished, and that can cause you to take twice as long to get out the door. Instead of running around like a chicken with your head cut off, get everything you need for work ready the night before. Or if you have evening plans, lay out your outfit and fill up your purse several hours before go-time. If all the essentials are done in advance, you can go about getting ready in a calm and efficient manner — and get to where you're going on time!
Prioritize
If you know you're running late, make a mental list of what is most important for you to get done, and check them off in order. For instance, if you have only five minutes to do your makeup and hair, style your hair while you have all your tools around you, then take your makeup bag with you to complete your look on the bus. Also prioritize while en route to your destination. You may really want to stop and grab a coffee or carry out an errand, but if it's between that and being on time, tough it out and get to where you're going instead.
Leave enough time
Giving yourself enough time to get to where you're going is the most important aspect of eliminating tardiness. If you know it takes you a half-hour to get from point A to point B, don't leave at 3:30 if you need to be there for 4:00. Instead, plan on getting to your destination early so that it isn't the end of the world if you're late getting out of the house or you get caught in traffic. If you schedule it out so that you'll arrive 15 minutes early, you just might make it there on time.
Take responsibility
If all your plans fail or you come across an insurmountable obstacle, take responsiblity for it. Chances are, the people waiting for you are already frustrated, and bumbling through excuses will only make it worse. Instead, apologize and get on with the group's plans. But if you stick to these guidelines whenever possible, you will be far less likely to be late — a positive thing for you and everyone else involved.
more productivity tips
Make your train/bus ride more productive
Quit being a workaholic
How not to be taken advantage of at work
More From SheKnows Explorer