Refresh Your Wardrobe By Trading Clothes
Participating in a clothing swap can be a fantastic (and free) way to refresh your wardrobe with new pieces while getting rid of those you're tired of. It can be a win-win situation if you organize a swap wisely. Here's how to set one up.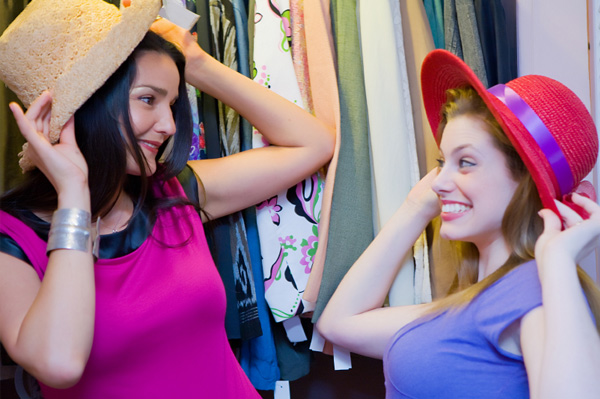 Not only is organizing a clothing swap easy on your budget and a great way to refresh your wardrobe, it's also environmentally friendly, since your clothes will gain a longer lifespan (albeit in someone else's closet!). Here are five steps to organizing a successful clothing swap.
Think through your invite list
Though you want to invite enough people so that there's a good variety of clothing, don't forget that if you're having the swap in your home, you have to be able to accommodate that number of people and the piles of clothes they'll bring with them. And remember that ideally each guest should have at least two other people who are the same clothing size as they are to trade with, because if there's only one guest who is much smaller or larger than everyone else, that person will have little to swap other than perhaps shoes and handbags.
Offer snacks and beverages (or make it a potluck)
The swap will be a lot more fun if it has a party-like atmosphere, so provide some snacks and beverages, or make it a potluck and ask each guest to bring a dish. Just make sure the food and drinks aren't too messy, or something might get spilled on the clothes.
Prepare fitting rooms
It's best if you can hold your clothing swap in a room in your home that's near a bathroom or bedroom equipped with a full-length mirror so people can try on items. If that's not possible, section off a few areas in your place where people can try on clothing in private.
Set the ground rules for your guests
With your invite, set out the rules for your clothing swap. For example, all items must be clean, undamaged and presentable (not wrinkled from having sat at the bottom of a closet). You can also ask that people leave with the same number of items as they brought to the swap.
Keep the swap organized
Try to set up your space like a department store, with defined areas for shoes, handbags, tops and bottoms. If you have a rolling rack or two handy, ask that guests bring their items on hangers so their clothes can be more easily "shopped."
All set? So what are you waiting for? Send out that email invite, and pull out the items you want to trade at your exchange.
More about clothing
Budget-friendly fashions for every occasion
Tips for selling children's clothing and toys online
Spring clean your closet