Dealing with your child's fears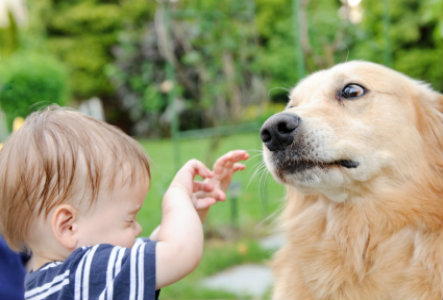 Is your child afraid of animals? Then bringing home a new pet will present some challenges! So how do you handle this situation? Read on for some suggestions.
when your child
is afraid of animals
There can be many reasons a child fears animals. Perhaps they had a bad experience, heard a scary story or simply haven't had the opportunity to be around them enough. Regardless of the reason, you need to understand and accept that fear, but does that mean you have to give up the idea of having a pet? Not necessarily. Here are some ways to help your child so you can welcome a pet into your home.
Before you pick your pet
As a parent, you know that in the long run having a family pet will be a rewarding experience, but a child who's scared of animals probably doesn't share that thought! When you have a child who's afraid of animals, it's important to gently warm them up to the idea of having a pet. Start slowly, and don't push the idea. For a young child, picking out a stuffed animal "pet" they can take care of might help them get used to the idea, while reading fun books about pets, such as Arthur's New Puppy by Marc Brown, will encourage kids of all ages to see pet care in a new light.
Take it slowly
Before you bring your pet home, gradually build up your child's exposure to the pet you are considering. Start slowly with something simple, such as watching owners walk their dogs through a quiet park. Then, when your child is ready, take a trip to a pet store. As your child becomes more comfortable, keep building up their exposure to eventually meeting and petting an animal. For the first meeting, keep in mind an older or mellow dog or cat probably won't be as jumpy or curious about your child and therefore might not seem as scary.
Involve your child in the process
When it's time to bring your new family member home, be sure to involve your child as much as possible. Have fun picking out a name together, or if the animal is older and already has a name, let your child make up a cute nickname or create a rhyme to go with it. Let your child help pick out the toys, water dish, leash, treats and whatever else the new pet needs. Having responsibilities such as these might not eradicate your child's fear, but it will make them feel more in control of the situation.
At home
If your child is uneasy with the new pet now that the animal is in their home, consider creating pet-free zones or barricaded pet areas so your child can have a break from the animal if needed. And give it time; soon your child will overcome their fear, and you will all be able to enjoy your new pet!
MORE ON PETS
The best pets for kids with allergies
Tips for introducing your new dog to your home
Things to consider before adopting a cat
More From SheKnows Explorer