Healthy Vegetable Snacks For Your Kids
Tasty and fun veggie snacks for your pickiest eaters!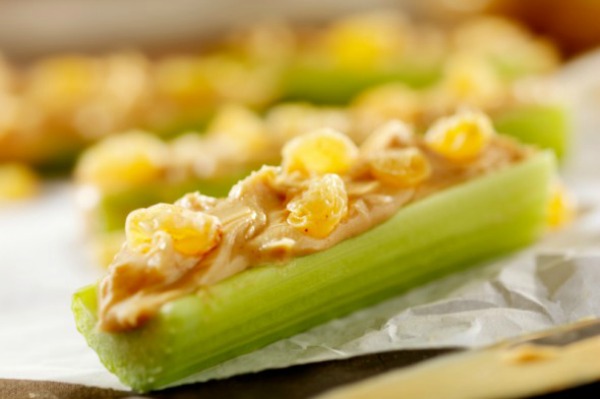 From tots to teens, kids are snackers. They use so much energy in their daily doings that it seems like they're always hungry. Instead of having them reach for the chips and other empty-calorie snacks, why not offer them some healthier alternatives?
Make vegetables more interesting and get your children accustomed to making healthy snack choices. It's no secret that visual interest can make every snack more appealing. You can still satisfy their snack cravings with creative snacks — and feel better about what they're eating!
Celery creations
Cut celery into 3-inch pieces and spread with lowfat cream cheese, yogurt or peanut butter. Add two raisin "eyes" near the top and a couple of pretzel sticks for antennae. Place the butterfly on two twisted pretzels for wings. Little ones will gobble these butterflies down. Alternate with Ants on a Log: Just load the celery with filling and dot with raisins. Celery Cars take two toothpicks poked through and across the celery stalk to serve as the axles, holding four carrot-slice wheels attached to their ends. These inventive presentations invite kids to "play" with their food — and munch on veggies.
Carrot chips
Crispy snack satisfaction with fewer calories and more vitamins and nutrition — and carrot chips taste good, too! Slice up a pound of carrots, making each cut about 1/4 inch. Sprinkle the carrots with 3 tablespoons of good olive oil and toss them onto a baking sheet. Top with coarse salt and bake in a 200 degrees Fahrenheit oven for 30 minutes. Remove from the oven and allow the chips to cool before serving. It's a sweet and salty combo everyone will enjoy snacking on.
Veggies with dip
Kids of all ages love dip. Make it more interesting by cutting vegetable dippers into different shapes: pepper strips, broccoli trees, cucumber chunks, carrot curls and so on. Offer the dippers with a bowl of hummus, yogurt or ranch dressing and watch those veggies disappear!
Roasted chickpea bites
Chickpeas are packed with great fibre and are full of protein and zinc, so they make a satisfying snack that keep kids full between meals. Drain a can of chickpeas, rinse and pat dry. Toss the chickpeas with 2 tablespoons of olive oil and bake in a single layer topped with a dash of garlic salt. 30 minutes at 230 degrees Fahrenheit will roast the chickpeas to a crunchy consistency that mimics store-bought chips.
Hot bean dip
So good for dipping raw veggies, or great spread on pita squares for a warm after-school snack! Just combine refried beans with 1/4 cup salsa, cover and microwave for 1 minute. What could be easier?
Carrot slaw
Carrots are a terrific snack that deliver the sweetness we all crave! Combine a cup of shredded carrots with 1/4 cup raisins, 1/8 teaspoon lemon juice and a dash of cinnamon sugar. Fold together with 1/8 cup of low-fat mayonnaise and chill. For some added crunch, you can stir in toasted sunflower or pumpkin seeds.
More healthy eating tips
Healthy after-school snacks your kids will enjoy
Healthy bag lunches kids will actually eat
5 Ways to snack smarter
More From SheKnows Explorer