Celebrate Your Teen's Grad With A BBQ Party
It's been 18 years since you held that tiny baby in your arms for the first time, and now that baby is grown up and graduating from high school! How are you going to celebrate? Why not hold a BBQ bash to remember!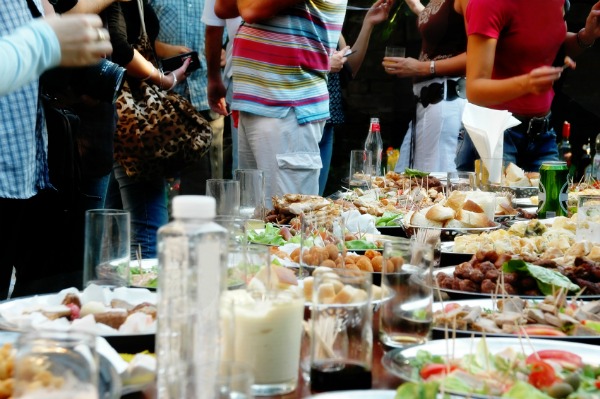 Make a guest list and set a date
Decide whom you're going to invite. Is this a family-only celebration? Friends only? A combination of both? Discuss the options with your teen, and make the list.
Pick the place, day and time. Are you hosting the BBQ at your home, or do you have another location in mind, such as a local beach, campground or park? If you are planning to hold it at location other than your home, have an optional rainout date in mind, or be ready to hold the festivities at your home in the event of inclement weather. Remember that your BBQ party is probably only one of several events happening around graduation time, so be sure to pick a day and time that won't conflict with any other celebration.
A barbecue is generally considered a casual event, and as such, invitations can be sent via email or mentioned in person and require only a week or two of notice.
Plan the decorations and food
Decide if you are taking the party theme further, as that will help guide you with the decorations and food choices. Here are a two fun party themes to consider:
A western theme. Have everyone don western-inspired duds, place hay bales around for seating and create a playlist of popular country western tunes. Food choices could include barbecued beef on a bun and coleslaw, grilled T-bone steaks and beans or ribs and potato salad. Set out a large metal bin filled with ice and bottled beverages. End the evening with a roaring campfire.
A Hawaiian theme. The guests should come in brightly coloured summer clothes, or opt for traditional Hawaiian garb, such as grass skirts or Hawaiian shirts. Set the scene with tiki torches and lots of flowers, including a lei for each person as they arrive. Serve up some island-inspired favourites, such as grilled shrimp, shredded pork and buns or teriyaki chicken. Make pitchers of exotic fruit drinks, such as non-alcoholic pina coladas and virgin daiquiris to quench thirst.
If your BBQ doesn't have a specific theme other than graduation, load up on helium balloons, "congratulations" banners and other grad theme decorations. Serve the new grads a few
bite-size nibbles
, then something yummy and simple, such as
burgers
,
gourmet hot dogs
and
salad favourites
.
Whatever the theme, be sure to include a showstopper dessert, such as an ice cream cake, chocolate fountain or a traditional cake with words of congratulations decorating the top.
Other suggestions
Have each attendee sign and add a memory to one page of a guest book. Randomly take a photo of each guest with your teen throughout the night, and after the party, add the photo to the appropriate page. Give it to your teen on the last day of high school.
Prepare a toast to the new grads, and offer it before the food is served.
While teens are more apt to just chat and laugh, have a few easy games ready in case the party needs a boost.
Have each guest sign a white T-shirt with permanent marker. Do a draw for the shirt during the party.
Invite each guest to bring a baby photo, and make a game out of guessing who each one is.
Hand out a fun party favour as each guest leaves.
While some of the partygoers may be of legal drinking age, be clear that underage drinking is not acceptable, or keep the party alcohol-free instead.
More party ideas for your child
Birthday parties for your tween son
Birthday party ideas for your tween or teen daughter
Planning a perfect birthday party for your child
More From SheKnows Explorer