Kids Can
Garden At Any Age!
Gardening is a wonderful skill for kids to learn at a young age. It requires a good deal of work, but boy, do you have something to show for all your effort! Read on for tips on how to let your kids help out in the garden at any age.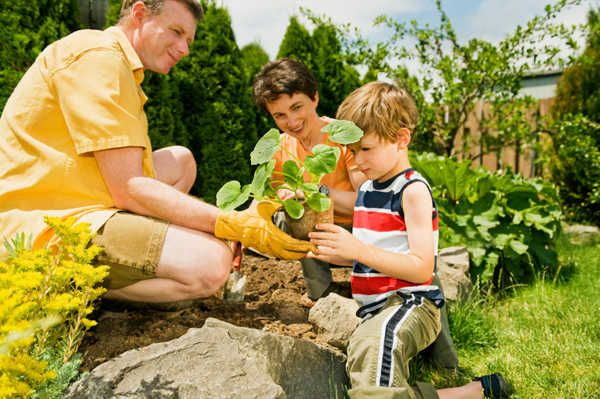 Under the age of 2
Children under the age of 2 may not be able to do much in the way of "helping" in the garden, but they certainly can enjoy spending time with you and learning about what you're doing. After applying a thick coat of sunscreen on your little one, set him up in his favourite jumper or chair near where you will be gardening. Talk about what you are doing, and hold things up so he or she can get a good look at everything. You will likely need to keep some wipes on hand, as there is a very good chance they will want to touch a lot of the things they see. This is a great way to familiarize your little one with all the items and processes involved with gardening.
2 to 3 years old
At the age of 2 or 3, children can enjoy a more hands-on approach. They won't be able to do much planting, but they can get more involved than when they were younger. Make sure you watch them constantly, however, to make sure they don't get into tools that are dangerous or wind up pulling out your favourite plants. Take this time to show your little one how to go about working in the garden. Let him or her help you pack down the soil, pull out weeds and water plants. You can even consider getting them their own gloves, apron and watering can so they really feel like they're part of the process.
4 to 5 years old
Around 4 or 5, kids may begin to get really curious about gardening. They will likely have lots of questions, some of which you may not even know the answers to! It's all part of the fun as you work and learn together. Under your watchful eye, children may be able to dig small holes and plant seeds. As a bonus, consider taking your little one to the store with you to help pick out the best flowers and greenery.
Over the age of 6
Different children have different abilities when it comes to being gentle and nursing a garden. If your little one has trouble playing nicely with the plants, move slowly, and let them learn at their own pace. As they get more comfortable with what gardening entails, you may be able to grant them their very own patch of soil or a couple of pots that they are in charge of caring for. Travel to your local gardening store to help them pick out the fruits, vegetables, flowers and greenery they prefer, and help them build up their own area. This is a great way to teach children about the responsibility that comes with gardening and the rewards that come with hard work.
more on gardening
Make your own compost
Grow your own kitchen herb garden
5 Plants that deserve a place in your garden
More From SheKnows Explorer