How Not To Lose Your Mind At Home With Baby
Your mat leave will surely be a busy time, what with a newborn to take care of, but make sure to plan your days so you don't go crazy with just the baby talk and kiddie television shows.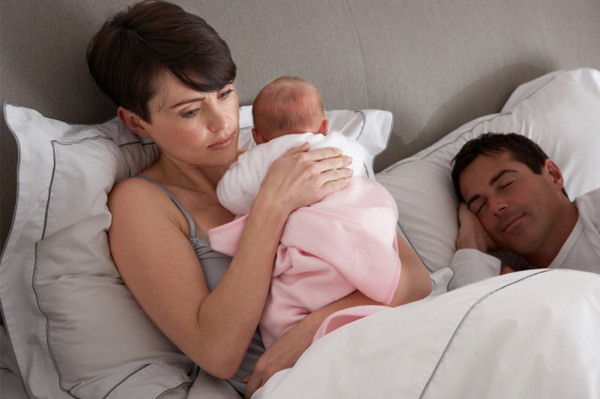 Before you have your first baby, the idea of a year at home with your firstborn probably sounds glorious. You figure you'll bond with your new baby, and you'll fill your time between diaper changes and feedings with things like making organic baby food and meeting up with other moms in the neighbourhood for a leisurely coffee break while your babies all nap quietly together.
But the reality is that you may find yourself wishing you could go back to the office. There's only so much cooing to the baby and watching Barney and Baby Einstein one can take. Here's advice on how not to lose your mind while on mat leave.
Get showered (if possible) and dressed every day
Finding the time to shower in the morning might be tough, what with the baby needing you to change a diaper or be fed, but try to fit it in during the day if you can while the baby naps. And even if you don't find time to bathe, it's a good idea to change out of your pyjamas and into proper clothes for the day. You'll feel renewed and refreshed and like you're part of the real world (even if you are cooped up at home most of the day and don't see anyone else).
Get out of the house
Even if it's just for a few minutes once your husband's gotten home, sneak in at least a bit of time every day to get out of the house. The fresh air, the breeze on your face and the scent of the outdoors will help rejuvenate you.
Socialize
Baby talk all the time will make you desperate for adult conversation. Seek out friends among the moms in your neighbourhood who have a newborn so you can chat about life and things other than babies. Of course, it does help to have someone to talk to about what you're struggling with and what you're loving about being a new mom.
Find a babysitter you can trust
Whether it's to spend with your hubby or to take a break and be alone, find a regular babysitter so you can have some time without the baby. If you have a standing date, you'll be set and can plan for a bit of a social life. And if the babysitter has flexible hours, you'll have some backup when it comes to baby care in case of last-minute situations.
More on becoming a mom
What to bring to the hospital for a newborn
You and your baby: The third trimester
Understanding Canadian maternity leave policies
More From SheKnows Explorer