Helping your child cope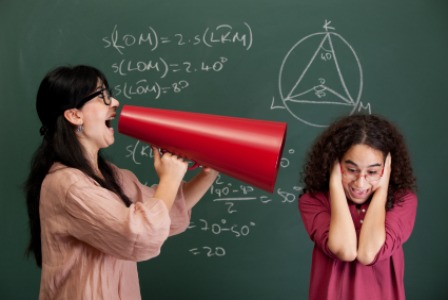 It's likely that at one point or another in your child's school career you will encounter a tough teacher. So how do you handle the situation? Read on for some ideas.
Difficult teachers
Having a different teacher year to year or class to class is par for the course in most schools. With every school year comes the opportunity for kids to get to know new teachers, and this can be an exciting venture, as they may have heard great — or not so great — things about them.
As we all know, while most teachers demonstrate positive traits such as fairness, patience and caring with their students, there are some tough teachers out there too! Here are some suggestions to help your child deal with a tough teacher.
Assess the situation
It's not uncommon for kids to gripe about their teacher. You might hear negative comments that stem from your child's daily interaction with their teacher or from things they've heard from other students, but that doesn't necessarily mean your child has a tough teacher. Be sure to ask your child detailed questions about their school day, and watch for any changes in attitude regarding school, dropping grades or possibly a reluctance to talk about school, as these might indicate your child is having a rough time with their teacher.
Meet with the teacher
When you suspect there's a problem, don't wait for parent-teacher interviews; head to the school and meet with the teacher. Clear communication is a key element in dealing with the situation so your child will ultimately have a successful school year. In this meeting you should discuss the teacher's expectations regarding school work and behaviour so both you and your child can better understand them. Be sure to ask for clarification when necessary, and make notes in case you need to come back to points brought up in the discussion later. After the meeting, you should have a better understanding of the teacher's personality and teaching style, but if you don't or if you want more insight, becoming a class volunteer might be an option so you can see what happens at school firsthand. If you still have concerns or feel uncomfortable about the teacher's ability or tactics, be sure to bring them up with the school principal, and if the problems persist, a change of classroom might be necessary.
Life lessons
In some cases, having a tough teacher might not be as bad as it initially seems. If your child doesn't have undue or unmanageable stress in school, dealing with a tough teacher may offer your child the opportunity to learn how to handle difficult situations, and that will be a valuable life experience.
More on education
Parent-teacher interviews
The importance of fine art programs
Academic success: Help your teen choose the best options
More From SheKnows Explorer