Creative fun for your little ones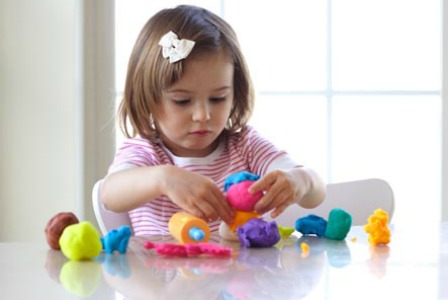 Tired of buying pricey playdough for your kids, only to open it a month later and discover it's shrivelled up? That's no fun for your child or your wallet! Instead, create your very own homemade playdough with these simple and unique recipes.
Make it yourself for a fraction of the cost!
Making your own homemade playdough is better than buying it for many reasons. First of all, considering playdough's short lifespan, it's far more budget-friendly to use a few ingredients you can easily find around the house than to buy a pricey variety and have it dry out. Plus, you can make a much larger quantity than you would get in a little store-bought container. And as a bonus, you can get kids involved in the process. They'll love the opportunity to create their own unique doughs!
Old-fashioned dough
There's nothing wrong with keeping it simple, and this is an incredibly easy way to whip up a big batch of playdough the kids won't be able to wait to get their hands on.
Ingredients:
2 cups all-purpose flour
2 cups water
1 cup salt
2 tablespoons vegetable oil
1 tablespoon cream of tartar
Food colouring (optional)
Directions:
Combine all the ingredients (except the food colouring, if using) in a large pot. Place it on the stove over medium heat. Cook until the dough pulls away from the sides of the pot and clumps together, losing its sticky quality.
Remove it from the heat, and knead in food colouring if using.
Roll the dough into a ball, and let cool. Once cooled, store it in an airtight container when not in use.
Refreshing mint dough
Many playdoughs can leave kids' hands feeling and smelling terrible, but this variety will leave your children's palms and fingers positively refreshed — and a little bit sparkly!
Ingredients:
1 cup all-purpose flour
1 cup water
1/2 cup salt
1/2 tablespoon cream of tartar
2 tablespoons vegetable oil
2 tablespoons peppermint extract
Green glitter
Green food colouring
Directions:
Combine the flour, water, salt, cream of tartar, oil and peppermint extract in a large pot. Cook it over medium heat. Continue warming until the mixture has thickened and come together.
Remove it from the heat, and stir in glitter and food colouring until desired colour and sparkle is achieved.
Remove the mixture from the pot, and roll it into a ball to cool.
Once cooled, the playdough is ready to enjoy! Just make sure to store it in an airtight container when not in use.
Slimy goop dough
This slimy goop dough is a fun alternative when kids have had enough of more typical dough options. The consistency may churn your stomach, but children love the stuff! It's especially great for kids who aren't old enough to really shape playdough but love pulling it apart and putting it back together again. Check out this helpful video for a step-by-step visual on how to put this creative concoction together.
Ingredients:
1/4 cup cornstarch
1/2 cup white glue
1/2 teaspoon borax (household cleaner)
1/4 cup warm water
Food colouring
Directions:
Combine the cornstarch and white glue in a small bowl.
In another bowl, mix the borax, warm water and a few drops of your selected food colouring.
Combine the two bowls. If a spoon doesn't do the trick, you may have to get in there and squeeze it together with your hands.
More crafts
Crafts for your old jeans
DIY budget-friendly wedding crafts
Making decorative items out of broken junk
More From SheKnows Explorer