Coping during this confusing time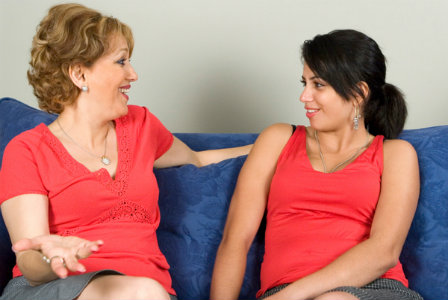 Learning their child is gay comes as a surprise to many parents, making it hard to know what to do or say in the situation. It's likely to be a confusing time for both you and your child, but here's some advice to make it easier for both of you.
Adjusting to the news
Accept your emotions
The truth is you can't control what your gut reaction is to the news and how wildly your emotions may react afterward. In his book Straight Parents, Gay Children: Keeping Families Together, Robert A. Bernstein acknowledges that parents can go through "a painful range of emotions, from shock, disbelief, and guilt to denial, anger, and depression." Dealing with these emotions and making sense of everything happens at different paces for different people. But every time you acknowledge an emotion and seek out why it is there, you are doing a good thing for both you and your child. If you need additional assistance working through your thoughts and emotions, consider contacting a support group such as PFLAG Canada (Parents, Families & Friends of Lesbians and Gays).
Don't assume it's a phase
Choosing to come out to you is a big step and not one your child will have taken lightly or without being certain of their feelings. He or she has likely spent an extroardinary amount of time searching through emotions before coming to this decision for himself or herself and then trying to figure out how to explain it to you. So although it is natural to be surprised and think that perhaps it's "just a phase," saying that can be extremely hurtful. It's important that you acknowledge your child's bravery in being able to determine his or her sexuality and then to have the courage to speak to you about it.
Your child is still the same person
Bernstein explains that "in the shock of the parents' first reaction, the child of their cherished images seems no longer to exist." Though the news may catch you off guard, remember that your child is still exactly the same person they were before coming out. Some of the visions you may have imagined of the future might have to change, but all those traits you love about your son or daughter are still there. Sexuality is only one part of a person, and your relationship doesn't have to change because of it.
Work together
Over 25 years ago, Ellen Degeneres came out to her mother, Betty. When she did, Betty admits to requiring an "adjustment period," meaning a time to step back, refocus and accept the fact that children have to live their lives as they are meant to rather than by what may have been envisioned for them by their parents. The National Organization for Women reports that "lesbian, gay and bisexual youth are at a four times higher risk for suicide than their straight peers." A lot of this can come down to the sense of isolation and loneliness as well as the fear of rejection they experience in their daily lives. Your child coming out to you is a sign that he or she doesn't want to feel alone anymore and wants to have you on their side. Take a moment to appreciate the level of trust your child is bestowing upon you by doing so. Both you and your child hope he or she will be happy, and it's only by working together and giving yourselves time that this can happen.
More parenting tips
Choose the right school for your child
The hazards of university life
4 Best gadgets for teens
More From SheKnows Explorer