Get your kids excited about lunch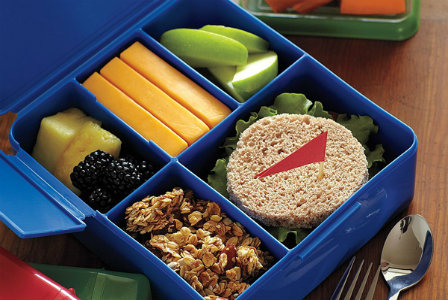 Have school lunches become boring for your child? If so, why not get him or her excited again by giving them a gourmet bento box! Bento boxes allow you to get a little creative and offer your kids a variety of foods for lunch.
Box lunch ideas
A bento lunch is a packed box meal. It's really that simple — all the foods for one meal packed into one food container. It's a perfect option for beating the lunchroom blahs!
Getting started
You'll need a few things to make a bento box lunch.
First, find a box. A variety of styles and sizes are available to suit almost any need, and you don't have to purchase a "real" bento box to make one. Any food storage box that is virtually leak-proof can work. A bento lunch should be packed tightly to prevent the contents from moving around, so make sure the size of box you choose isn't too large, or you might see leftovers brought home at the end of the day. A couple of cool boxes to check out are the Spencer Bento Box and the Goodbyn Bynto.
Silicone muffin and mini-muffin cups are ideal for holding all the little bits that go into the box and keeping them separate from other foods. They are perfect for fruit, small crackers, cheese cubes, etc.
Condiment cups for sauces, dips or other liquid items. Two to try are from Tupperware and Fenigo.com.
A selection of cookie cutters or bento cutters to cut sandwiches, cheese, deli meat and the like into kid-friendly shapes. Some popular choices are the alphabet, numbers, stars, flowers, puzzle shapes, triangles and circles, but almost any shape you can think of will provide visual interest and fun to the lunch. Have a few cutters ready for special occasions, such as ghosts for Halloween or hearts for Valentine's Day.
Now for the fun
Not only is a bento box meal fun to eat, it's fun to make! Sure, the food has to be good, but part of the appeal is the presentation.
A bento-style lunch should have a variety of foods, so be sure to include carbs, fruits, veggies and protein.
Use your cookie cutters to make fun shapes out of normal lunch fare.
Try your hand at designing cartoon characters or animals out of the food.
For younger children, create a cute theme, such as "under the sea," with hot dog octopuses and fish swimming through seaweed (snow peas or a julienned green pepper). An older child might appreciate a box designed around a specific type of cuisine, such as Mexican or Indian.
Arrange the food in an organized fashion; don't pack the box haphazardly. Once the main items are in the box, add a few cute garnishes, such as carrot flowers or cheese stars, to the top.
Remember to pack the box tightly so the food doesn't shift or mix together.
What to pack
That's easy — whatever you want! Small-scale foods work well, as a bento box is akin to a tasting menu: small portions and variety. Let your creativity be your guide, but here are five lunch ideas to get you started.
Turkey and Monterey Jack roll-ups, cornbread mini muffins, a condiment cup of mild salsa, whole-grain crackers, cucumber stars and hulled strawberries.
Small apple butter sandwich rounds, raisins, sliced pears, cheddar cheese stars and carrot spears.
Mini meatballs, Parmesan breadsticks, marinated mozzarella cubes, cherry tomatoes and fresh berries.
Mini skewers of sliced veggie hot dogs and cubed marble cheddar, whole-grain mini pretzels , red and orange pepper rings and grapes.
Mini bagel with smoked salmon cream cheese spread, a hard-boiled egg, spinach and strawberry salad and assorted melon balls.
More on kids lunches
Perfectly packed school lunches
Ways to sneak nutrition into your child's school lunch
Creative ways to prevent school lunch boredom
More From SheKnows Explorer