Pole dancing classes for children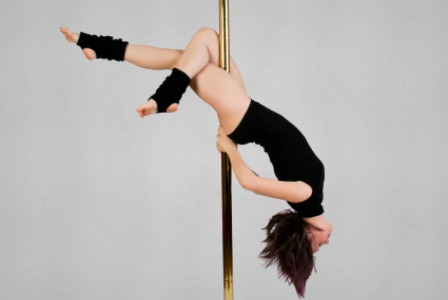 We all know kids don't exercise enough nowadays. So while you're signing up your child for dance lessons, maybe give this new class a try too?
New fitness class making headlines
Get 'em young, as they say.
Well, if you live on Vancouver Island, British Columbia, and have lazy couch potatoes for children, boy, do we have great news for you!
The Twisted Grip Dance & Fitness Studio in Duncan is offering some new fitness classes for adults and children that are causing quite a stir. What is this magical activity?
Why, pole dancing, of course! Yup, we'll give you a second to drink it all in.
"Little Spinners" class
This new class is starting in late September and entails some good old-fashioned pole aerobics for wee ones. Now, before you jump to conclusions, this was not developed by some pimp in a back alley, but by a trained professional in response to demand from parents who frequent the fitness studio.
"My existing students were asking about it for their children. They were saying, 'My daughter plays on my pole at home all the time, I'd love her to actually learn how to do things properly and not hurt herself,'" stated Kristy Craig, owner of the studio, in The National Post.
Oy... Is quoting a woman with a pole in her house really the best strategy for Ms. Craig? We're not feeling sympathetic to her woes, here. But regardless, the classes are drawing significant worldwide attention (and ridicule) because of the sexual inferences pole dancing generally carries, and some of Craig's new students are only 5 years old!
"I treat it just like gymnastic classes"
"Do you see anything provocative going on here? Because there isn't. This is strictly about fitness," Craig continued in The National Post. "I treat it just like gymnastic classes… I don't teach any of the adult moves."
Now, we understand the struggle of many pole dancing instructors and enthusiasts. The International Pole Sport Federation (oh, it's real) is pushing to embed the activity in the Olympics, for example. But involving children, who cannot even comprehend the negative stigma surrounding the sport, may be a little too political. Fitness is important — that's why there are numerous games and activities created for that purpose for children — but climb a pole? Climb a tree!
The pole itself was initially created and implemented in gentlemen's clubs for the purpose of a woman to throw herself onto it in various seductive positions. If Ms. Craig has unearthed a method of desexualizing an innately sexual object, then we fully support her. But how many people can look at a child dancing on a pole without thinking of a stripper? We suggest the class use horizontal poles — that'll show 'em!
"Any criticism that comes in I understand, but pole dancing in general is trying to change people's perception away from the stripping and more into it being fitness and an athletic sport," Craig explained to CTV News. "I don't think you can avoid the stigma."
Too provocative
In this particular situation, the important thing is not the opinion of the posh nose-turner-uppers, but of the parents and children participating or willing to participate in such classes. Would non-pole-dancing parents be down for a session of "Little Spinners" for their kid, for example?
"I didn't even know that existed. It's probably good exercise, but too provocative. I wouldn't let my 10-year-old do it," said Jessy Carranza of Barrie, Ontario.
"I wouldn't let my 9-year-old do it, no. The idea of a kid on a pole is not associated with anything childlike for me. It needs time to lose the negativity around it before I'm comfortable enough to sign my child up," stated Sofiya Philippova of Oshawa, Ontario.
"...there is actually very little harm to the child"
And to hit up this issue from numerous angles, child psychologist Dr. Derek Swain stated that if the pole dancing activity is free of bullying, there is actually very little harm to the child.
"They need to have parental support in recognizing some of their peers and some other adults may not be very supportive of it and may jeer [at] them and make derogatory remarks to them, and they need to be prepared for that. Ultimately they need to decide whether or not they can handle the stress if that occurs."
But since everything is a double-edged sword, Dr. Swain also warns of the dangers of involving young girls in pole dancing with the negative stigma.
"There would be that potential, and that is something of concern, because we know that people in the adult industry are out recruiting in colleges and universities as well as attempting to recruit in high schools. That temptation would certainly be there, and for someone who already has those skills, it would be an easy transition."
So many opinions, all contradicting one another. In the end, the classes are not conducted in a brothel, in the nude, with oiled-up poles and neon lights… So if you're willing to take the plunge and introduce your kid to a new form of activity, go for it. If you're not, that doesn't mean you're a prude either.
It's a shaky issue. Let us know what you think!
More on fitness
10 Canadian health and fitness bloggers we love
Trends in fitness and exercise: What's hot!
Discover a fitness workout you're passionate about
More From SheKnows Explorer